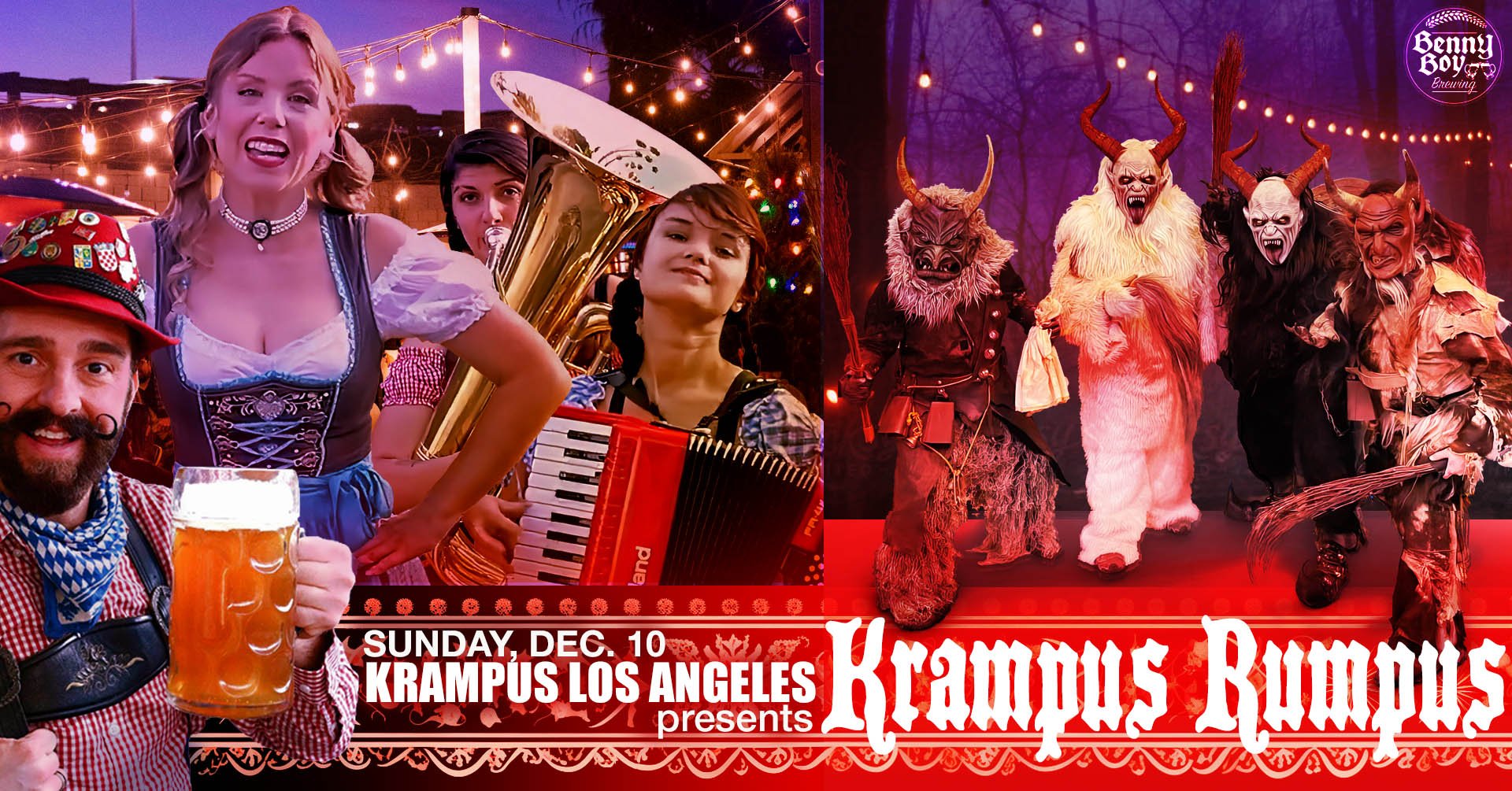 Krampus Los Angeles'
KRAMPUS RUMPUS (Sold Out!)
Sunday, Dec. 10, 2023
3pm-10pm: Holiday Market, Drink & Food
8-10:00pm: Show
@ BENNY BOY BREWING
1821 Daly St, Los Angeles, CA 90031

21+ OVER: IDs required for admission.
Krampus Los Angeles is back with a new venue for 2023! Come sundown, the devils start sneaking through the beer-garden of Benny Boy Brewing, a newly opened beer and cider maker in Lincoln Heights.
ENTERTAINMENT (8:00-10:00)
The Alpine festivities begin with the Bavarian music and dance group, G.T.E.V. D'OBERLANDLER presenting genuine Schuhplattler dances. Along with this shoe-slapping folk dance, they'll pick out tunes on an array of cowbells and bellow out some tunes on their mighty 10' alpenhorn.
We'll continue with music from the Krampus' homeland, provided by LADYHOSEN, named for their (almost) namesake leather britches. The all-female lineup is fronted by Munich native Kathrin Jacobs, singing and yodeling you silly. She's joined by India Anderson on tuba and Jessica Fichot on accordion.
Soon after the last tuba note from Ladyhosen fades, an unholy clanking and clattering will arise. Those at a safe distance will soon see horns waggling over the crowd. The brave and foolish on the frontline will feel the swat of switches as the stomping, snarling devils of KRAMPUS LOS ANGELES ATTACK, out in full force for the first time since their long hibernation in a San Gabriel mountain cave. Rumor has it that the towering hell-goat known as the Habergeiss and legendary Pinecone Man may even join the marauding horde.
NOTE: You're likely to see a Krampus or two scouting out the site before the big invasion. They're friendly to photo requests (assuming you've been good this year).
Presiding over the evening will be FESTMEISTER HANS, comedian, singer, actor and emcee for the oldest and largest Oktoberfest in California at the late, great Alpine Village. Prepare for some chicken dancing and stein-hoisting chants. Bay Area impresario KIMRIC SMYTHE and accordionist extraordinaire RENEE DE LA PRADE also promise to incite singalong silliness.
A BEER, CIDER, WINE or NA alternative is INCLUDED with your admission!
You'll also likely want to taste Benny Boy's other European-inspired California-inflected brews in the tank bar or visit the cider house to sip the unique offerings there, including steaming MULLED CIDER.
MORE! COME EARLY: HOLIDAY MARKET
VENDORS, FOOD: Local artisans will be on hand to help with your holiday gift shopping. Among the arts and crafts you're bound to find more than a few Krampus-themed items (Death by Chocolate's confectionary devils, or horned headdresses by MsFormaldehyde, for instance). The Krampus Los Angeles 2023 shirt will also be available. Food pop-ups Tirzah's Mexi-Terranean w/ Christmas tamales and green pozole, Baserriko Peppers w/ German menu, and one more TBA will be serving throughout the event. Arrive early to soak in the holiday Gemütlichkeit (coziness)! Laze under the twinkling beer garden lights or by one of the firepits. Exchange pleasantries and snap shots with fellow Krampus aficionados turned out in their diabolically festive best.
COSTUMES: It's not required, but we've noticed that Krampus fans tend to show up in amazing outfits, dressed as a Krampus, Krampus-lite, Krampus-adjacent, Bavarian party animal, or in other holiday looks. PRIZES for outstanding costumes.
INFO
DATE: Sunday, Dec, 10, 2032
TIME: Doors 3pm, Show: 8-10:00
LOCATION: 1821 Daly St, Los Angeles, CA 90031
21+ OVER: IDs REQUIRED for admission
ADVANCE TICKETS ONLY Tickets HERE
VALET PARKING ONLY. Very limited street parking nearby. Rideshare HIGHLY recommended. Valet service available all evening.