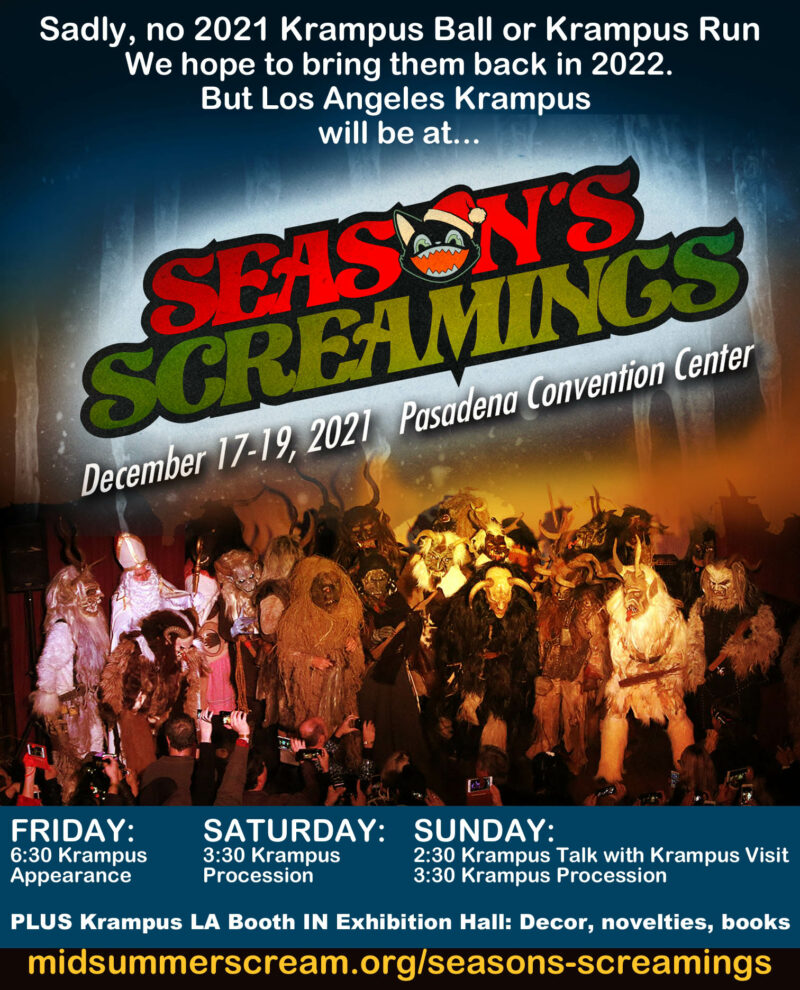 We understand it's not quite the same and hope to bring you the old favorites next year if things in Los Angeles are halfway normal again, but Meanwhile, the producers of the Midsummer Scream horror convention, have invited us to participate in their new seasonal offering Seasons' Screamings to be held at the Pasadena Convention Center Friday, Dec. 17 through Sunday, Dec. 19.
The even offers 200+ dark vendors, spooky photo ops and attractions, specials guests with a holiday twist. Krampus Los Angeles will have a table offering decorations, novelties, and books in the Exhibition Hall and will be making three appearances during the convention:
Friday, December 17, 6:30pm. Some beasties will be on hand to help celebrate the convention's opening, dole out some much deserved beatings and pose for photos.
Saturday, December 18, 3:30pm. A herd of devils from Krampus Los Angeles will process through the Hall of Yuletide Spirits and exhibitions areas. Beatings and photo ops included.
Sunday, December 19, 2:30pm. Al Ridenour, author of The Krampus and the Old, Dark Christmas will offer a slide and video lecture on the history and folklore of the Krampus, highlighted by an onstage (and in-audience) appearance by some horned creatures.
Sunday, December 19, 3:30pm. A march of switch-wielding Krampuses will proceed from Ridenour's lecture through the exhibitions areas to The Hall of Yuletide Spirits and . Beatings and photo ops galore.
While these events are only open to Seasons Screamings ticket-holders, we believe Krampus-lovers will also enjoy other offerings of this convention exclusively dedicated to the intersection of horrors and the holidays.