You probably already have a pretty good idea of how you want to approach your costume, but I'm hoping these links could save you time, money, or inspire something you hadn't thought of.
You don't want to, and almost can't buy a suit.  And it's less fun than making one anyway.   But you don't want to makeeverything either. There are lots of pieces you can purchase at reasonable cost to assemble this puzzle.
Anway, at the risk of stating the obvious…
Thrift stores are usually cheaper, flea markets more so — not counting your gas and time.  But eBay is convenient to estimate costs, so that's what I usually link to.
I suggest clicking some links that look interesting, then setting up your own "save search" on eBay to get daily emails.  Watch without bidding for a while, and you'll get a good idea of availability and market rate. Don't forget you can customize those searches (price range, "buy it now," etc.). And then there's that wicked automatic sniping software, of course.
You're not going to find anything that appropriate on the US market, and I know there's a number of good mask-makers among us, but if you wanted to perhaps adapt a mask, or use it to make a mold, etc., there are these:
We are planning workshops to discuss (and make) masks.  Some will probably want to carve or sculpt their own.  We may do some molding and casting a couple basic mask, which can be customized.
Whoever makes masks could be furnished with other costume items as an exchange, perhaps.  Maybe a trade between those with sewing/costuming skills and those with mask-making skills, or trading items for masks, etc.
MORE TBD….
One thing most Krampus masks have in common is REAL horns, and while it's possible to somehow sculpt, whittle or mold them, you'll probably be missing a lot of nice detail instantly available with the real thing.  Also, real horns, being hollow, are fairly light, so relatively easy to balance.  If you want to really get ambitious and spend a bit more, you can add multiple horns like many of the older style masks tend to have.
Here are some e-Bay searches to help you find real horns….
Most Krampus suits cover the entire body seamlessly with fur. They're designed either as two piece shirts/pants arrangements with a wide belt to hide the seam and hold bells, or as once-piece jumpsuit.
Krampus suits  are sometimes made of shorter pile sheepskin but are usually made from longer, shaggier mountain goat fur.   The most traditional style of fur suit has long hair.  Like Chewbacca, but even longer. Like these guys:
Krampus in Bad Gastein. Photo: Al Ridenour
Less luxurious shorter haired fur is MUCH easier to come by, So nowadays most suits will combine shorter fur with some longer fur accents around the head and shoulders.
Sometimes they are treated less like an animal costume covering the whole body seamlessly. Other times they are treated more like clothing, that is, a fur tunic over some other furry costuming or least rustic wardrobe.  LIke this guy: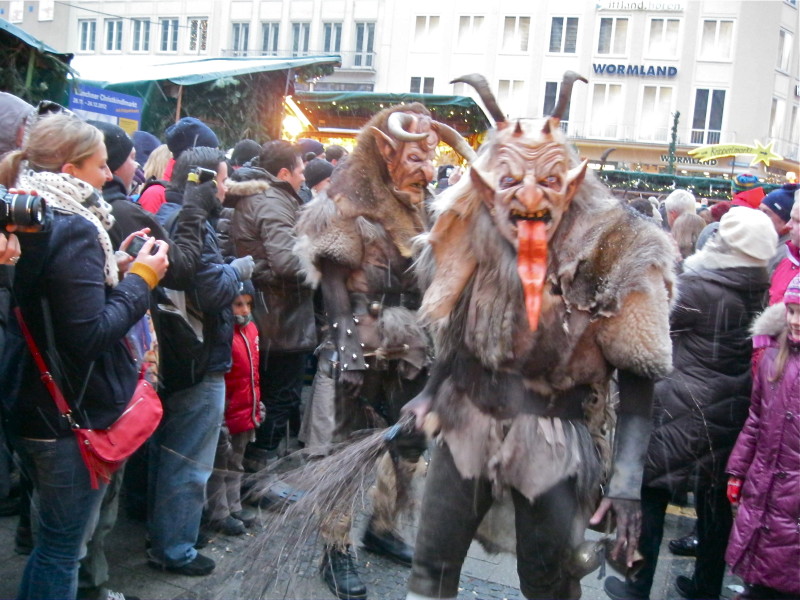 Another approach, shown below is a sort of patchwork of various animal pelts, buckskin, cowhide or whatever.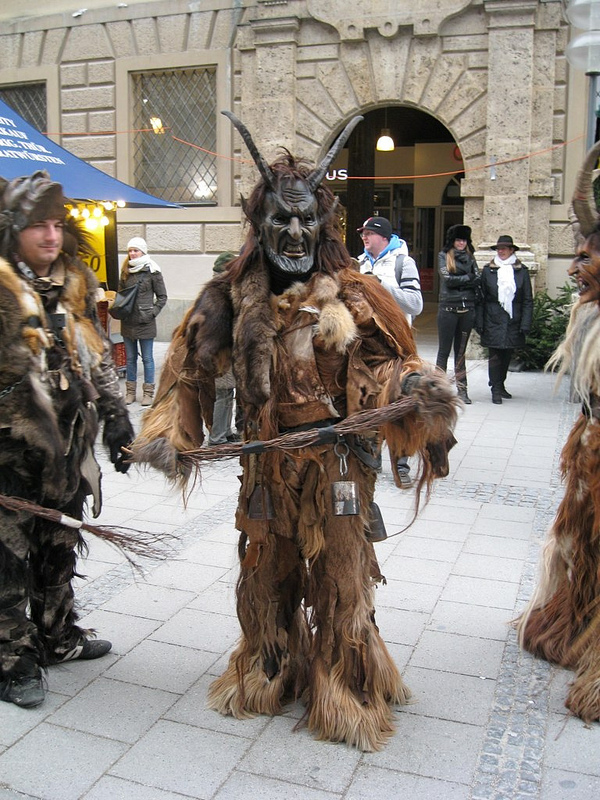 Or  by just using lots of fur accent pieces on his extremities, this guy gets away without covering his trunk in fur.  (But makes up for any shortcomings with those horns!)
If you don't feel like starting from scratch, you might want to dress up an existing suit with real fur or other fur/hair accents.
Some suggestions for patterns and getting the most out of any fake fur yardage you purchase will be posted soon.
We will have also have a workshop to discuss this.
In some cases we could arrange some sort of exchange of specialized skills, i.e., whoever can sew costumes might be furnished with masks or other costume items.
MORE TBD….
Shopping for Fake Fur
Look for long-pile fur if at all possible.  Around 3″ is about as long as it gets.  Some furs use fur in two different piles/lengths to good naturalistic effect. All sorts of color variations available.
If you're thinking of combining furs or maybe already have something you are trying to match, it IS possible to dye fake furs, but a lot of testing seems to be required.  Some random notes at the bottom of this page about that.
Faux Fur Around LA
You can always check the stores downtown around Michael Levine's, but best place for fake fur is probably City Fabric, 324 E 9th St, Los Angeles, CA 90015
Faux Fur Online
Distinctive Fabric
This place is in Los Angeles, but is Internet-only.  I don't see any options about picking up in person on their site.
They will send you five free swatches if you set up a free account with them.  Also, when you order fabric, they'll give you free swatches
I did not go through all their options as I have with others below only because I found it last.  But it may well be the best online option.
Anyway here is their long pile faux fur page.  And they have this much longer than usual (3.5-4″ pile) monkey shag  in black and white for $30.  And these 2″ pile color blended wolf choices for $35.  (Prices by the yard and without shipping costs)
Fabric Empire
Fabric Empire is also in LA (warehouse and online ordering only. I don't see any options about picking up in person on their site.
Prices by the yard
Prices don't include shipping
Fabric Depot
Fabric Depot is in Portland
Prices by the yard
Prices don't include shipping
MENDELS
MENDELS in SF will  do up to 5 free 1×3″ samples.  Also I notice they give discounts for 5 yards or more if you want to go in together with someone.
All their furs are here on a single page.
Styles you might want to check out:
Sheepdog (striped cappuccino) $34.95 per yard; 5 yards or more $27.96 per yard
Yak (black/grey) — Under 5 yards $34.95 per yard; 5 yards or more $27.96 per yard
Shaggy Pony (camel) — Under 5 yards $38.95 per yard; 5 yards or more $31.16 per yard
Big Bad Wolf — Under 5 yards $38.95 per yard; 5 yards or more $31.16 per yard.
Tipped Fox – Under 5 yards $38.95 per yard; 5 yards or more $31.16 per yard.
Shaggy Mongolian — Under 5 yards $30.95 per yard; 5 yards or more $24.76 per yard
Wispy Fox-  Under 5 yards $38.95 per yard; 5 yards or more $30.76
Notes on Dyeing Fake Fur
textile dyes don't generally work
watered down acrylic paint  works. (another says don't water because it beads, use thinner)  but here's a tutorial.  could try dry brush tips of the strands with acrylic to add realism
light spray-paint can work but you need to brush fur as you do so fibers don't clump together
someone else says: "from this manufacturer I'd suggest you use a good thin fabric paint that works on polyester, such as Dye-Na-Flow. Probably the easiest way to get a nice gradient would be to dilute the paint with 25% water and then either airbrush it on (that would be the best) or spray it on with a good hand sprayer (like this one). Use a commercial clothes dryer to heat set the paint after it dries (home dryers don't get hot enough)."
shoe/ leather dye covers well but smells
Hairy Accents
Mohair Wig Supplies
The info below is older, written before I found Mohair Wig Supplies.  These are the folks to use for dressing up those costumes with longer fur accents.   Bits of these wig wefts worked into cheap gorilla/werewolf/yeti costumes can make your $70-120 costume look like a luxurious $600-800 job.  There are supplies in a range of prices.
Horsehair
Note the horsehair in the picture above.  Horsehair flails often replace the birch or willow branch switches.  Much more expensive, but allow you to actually make some contact with those swings without starting a lawsuit.
Horsehair also appears to be used for the long hair on masks and sometimes appears to be (or could be) woven into the suits here and there for a more voluminous yet stringy effect.
Hair Extensions
These
 might be cheaper if they're synthetic and not human.
Wool Fiber & Crepe Hair
Flattening 
crepe hair
 is a pain in the ass unless, but there's this "same material as crepe hair" 
wool fiber
 18″ for $1.69 (?  how much would you get, I wonder.)
Yak Hair
Yak hair 
is available, and not as stiff as horse hair, but much more expensive.
Wigs & Beards
Or you could just cut up wigs long hair wigs like this one on Amazon for $23.
Or wig/beard sets are more for your money. (wigs easier to work with because of mesh vs. loose hair).  Or on e-Bay as: wigs, long
Ghillie Suits
There are some versions of Krampus that use vegetation (okay, mainly straw, but….)   These hunter's camo suits, especially in white, black or brown might be useful.
Furry Legwarmers
Search e-Bay for fur legwarmers pairs of fur leggings  about $14 w/shipping for knee-to-ankle length.  Might be useful.
Hides and Pelts
Some eBay Stores
store for goat hides, cowhides
E-Bay Searches
Clothing With Fake or Real Fur or Hide
Much of this is ridiculously expensive, but some is faux and cheap, or some is damaged and cheap…
Don't forget the bells!
If instead of watching videos, you've been just looking at pictures (especially the postcards where the bells are notably absent), you might forget the SOUND Krampus makes. The cacophony of bells is a huge part of his impact and really creates anticipation from far away. The beastie's natural movement and exaggerated jumping gets the clappers going, and often a chain will be fixed like this over the bells for further clatter.
Below is a typical arrangement. (Note the size and the belts required.)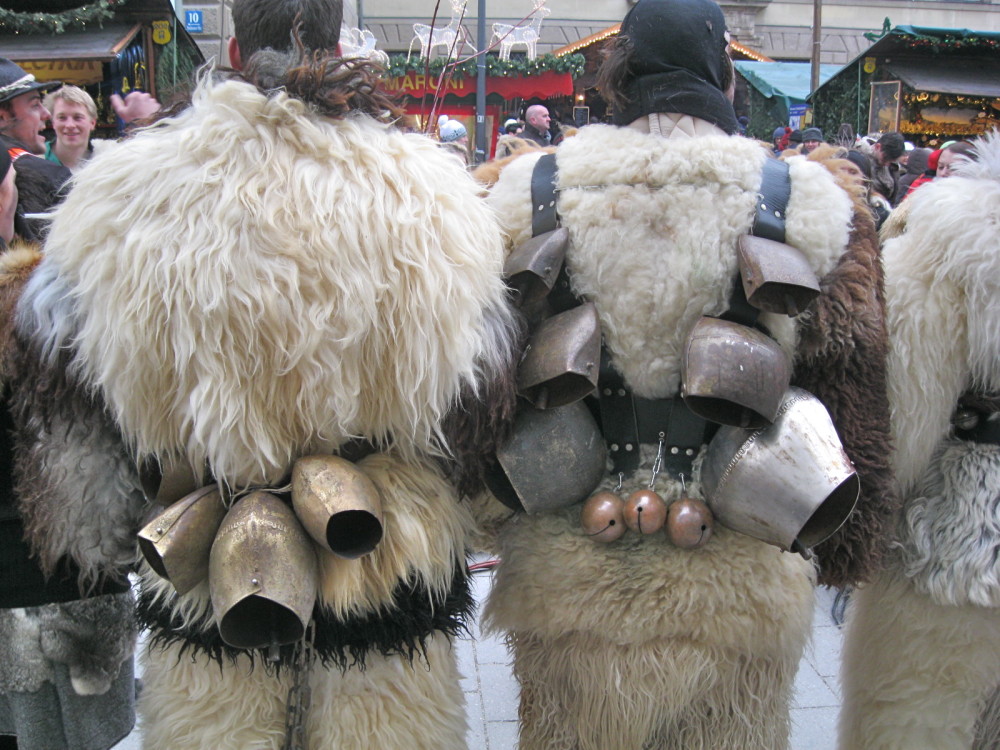 You cannot buy these in the US, and even in the EU, you'd spend $40-200 per bell, new.  And these aren't even exceptionally big like  like these or these seriously huge bells.
Resources
Cowbells
The search term "cowbells" will usually bring up either pricey musician's cowbells , clanky party favor type bells with no resonance, expensive alpine souvenir cowbells, or overpriced collector's antiques.
Other  Interesting Animal Bells
Bell Belts
Of course you could just use an old hemp rope, but a heavy leather belt might be handy, is traditional, and might enhance your badassery.
Some possible E-Bay searches:
CHAINS to rattle. Foam chains don't rattle, but they look cool and are pretty cheap: $12 w/ ship.  Should be able to find these pretty easily in stores around Halloween.
SWITCHES you might be able to gather from a yard or park, forest, etc., though there is a pretty specific straight, springy quality you need.  Moskatel's-Michael's downtown definitely will have them, as will any of the big floral supply places around there or in your neighborhood. Or ask a tree-trimmer to save you some. Or just get them online ($13 PLUS SHIPING).
CHILD BASKET
  You'd probably do better picking one of these up locally at a Big Lots or K-mart or on sale at Pier One, etc.  But you can also find a 
wicker hamper
 eBay.