The Los Angeles Krampus Ball will be returning to the same lodge-style venue in Highland Park this year. With 2013's madness in mind, early online ticket purchase is strongly advised as are comfortable "Krampus-lite" couture. We also suggest you also arrive early to allow yourself some extra moments to savor the surroundings, exchange pleasantries with other guests turned out in their yuletide best, snack on Pfeffernüsse in the Edwardian parlor, and snap some pictures of still fresh costumes.  Our show will once again be hosted by "Festmeister Hans" of Alpine Village.
The featured entertainments are…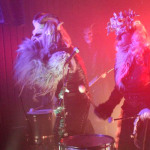 KRAMMPSTEIN After a sold-out gig at last year's Krampusfest, Green Jellÿ alum Greg Reynard and crew return as KRAMMPSTEIN — that inexplicably weird but oh-so-right hybridization of Germany's industrial-metal giants Rammstein and everyone's favorite Yule devil. Dressed in horns, pelts, and masks, the band tears through an apocalyptic stage show, churning out Rammstein's trademark Neue Deutsche Härte overlaid with obsessively reworked lyrics reflecting the inner world of the Krampus — a medley of hellfire, brutal thrashings, and Christmas cookies.
G.T.E.V. D'OBERLANDLER Decked out in folkloric finery, embroidered leather, green velour, plumes, and eagle feathers, the the dancers of G.T.E.V. D'OBERLANDLER return to the Ball this year to provide Angelenos another too-brief glimpse of the dress, music, and dance of the Miesbach region of Bavaria. Expect more spirited bench-thumping, cowbell-ringing, sole-slapping Schuhplattler, and the awe-inspiring call of the Alpenhorn.
RASPUTIN'S MARIONETTES Trained at LA's famous Bob Baker Marionette Theater, Rasputin (Matt Scott) has been creating puppets for over 17 years. Tonight, he and his crew present the charmingly unhappy cautionary tale: "Night of the Krampus."
EGO PLUM Easing you into the spirit of things will be DJ'd set of Alpine music deconstructed by EGO PLUM, mastermind behind the Ebola Orchestra. Ego Plum's musical collaborations have also included work with Genesis P. Orridge, Frank Black, and David J of Bauhaus, and composing and producing credits running the gamut from avant-garde theater soundscapes to scoring Nickelodeon cartoons.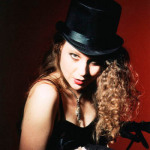 CHRISTINA LINHARDT Cabaret artist, actress, dancer, impresaria, and official national anthem singer for LA's German Consulate, CHRISTINA LINHARDT offers a smoky set of Marlene Dietrich standards as an urbane prelude to the rough Alpine revelry to come.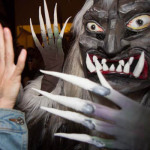 LOS ANGELES & SALZBURG KRAMPUS ATTACK! Sometime around midnight, the Krampus arrives, bursting through ballroom doors as a wild horde of devils swinging birch switches, rattling chains and clanking rusty cowbells. The Krampus is accompanied by some never-before-seen witches, mountain and forest spirits, and – as always – a benevolent St. Nicholas attempting to keep the evil in check. This year, The KRAMPUS LOS ANGELES TROUPE will be joined by special guests from Austria: the first representatives of a European Krampus troupe to visit North American in costume, members one of the Salzburg area's oldest troupes, the ALT GNIGLER KRAMPUS PERCHTEN PASS.
ALL THIS AND… PRIZES!
Tonight's ball guests taking part in the fund-raising raffle for Krampus LA will have a chance to win prizes generously supplied by German business including The Red Lion Tavern and Alpine Village as well as Krampus books and merchandise from Last Gasp publishing, horror and Halloween prizes from Scare LA and the Halloween Club, and urban adventure passes from Esotouric and The Obscura Society. Also up for grabs: a personal visit from Krampus!  Estimated value of roughly $1000 in goods and services; tickets only $1.
The Krampus Ball
Saturday, December 6, 2014.
Doors 7pm. Show 8-11pm.
Highland Park Ebell Club
131 S Ave 57
Los Angeles, CA 90042

Tickets: $20.  Online sales have ended! Please arrive before 7pm doors (between 6-7pm) for limited number of walk-up tickets to be released at the venue.

Further info — email us.

 SEE WHICH FRIENDS HAVE RSVP'D ON FACEBOOK.