Krampus, or the Krampus, (the name is both a proper and common noun) is a figure of European folklore associated with St. Nicholas and his visits to children on St. Nicholas Day (December 6).  On this day, or the preceding evening, the saint makes his appearance (in traditional bishop's robes and mitre) to distribute small gifts to children who have behaved.  Children who have misbehaved are menaced by Krampus, the shaggy devil-like beast at his side.  The creature brandishes switches, rattles chains, and carries on his back a large basket in which particularly recalcitrant children are said to be carried off for further punishment.
Krampus or a nearly identical figure is found in Austria, Bavaria, Northeastern Italy, Slovenia, Hungary, the Slovak & Czech Republic, and Croatia. Related dark servants of St. Nicholas are also found elsewhere in Germany, Holland, Switzerland, and Alsatian France. The Krampus-Nicholas tradition took shape in the 17th century, but the saint's henchman is largely believed to have pre-Christian roots in an ambivalent class of mountain spirits known in Austria and Germany as Perchten.
Krampus  makes live appearances as part of a roving costumed troupe.  Originally these troupes consisted of a Saint Nicholas, accompanied by an angel, a basket-carrier (for the  gifts) and a Krampus or two, but over the last several decades, Krampus has become more prominent, leading to the development of the Krampuslauf ("Krampus run") in which dozens or perhaps hundreds of participants costumed as Krampus proceed through city streets. Saint NIcholas or the other traditional figures may be barely represented or entirely absent.  Sometimes witches from the Perchten mythology are also included.
In regions where he is known, exchanging Krampus cards (Krampuskarten) featuring playfully menacing renderings of the beast has been a part of pre-Christmas festivities since the late 1800s..  Stateside interest in Krampus has been growing over the last couple decades, thanks in large part to the publication of books like Krampus, The Devil of Christmas and others by enthusiastic Krampus card collector Monte Beauchamp.   Every year these images circulate more widely on the net, and annual Krampus celebrations have already sprung up in Philadelphia, Portland, and dozens of other cities.
American enthusiasm for Krampus has also been driven by media, which for creative reasons, radically re-invents the existing folklore.  Examples would be the publication Krampus the Yule Lord by the artist Brom or the figure's December 2013 appearance on NBC television series Grimm.  Though the Krampus tradition is necessarily  ever-evolving, and our Los Angeles events would likely prove occasionally puzzzling to visitors from the creature's homeland, our group is very interested in preserving and educating the public in the tradition as understood in its original cultural context.  For this reason, we will continue to invite those knowledgeable in the tradition to present public lectures and slideshows, as well as contribute articles on the topic.
Below are several articles that further discuss the tradition in the context of our Los Angeles celebrations.
---

Article on various representations of Krampus by Al Ridenour of Krampus LA  written for Atlas Obscura in conjunction with Atlas Obscura-hosted lecture.

"Krampusfest": Guest Post by Al Ridenour of Art of Bleeding" on Morbid Anatomy.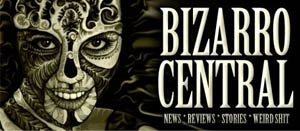 "Twisted Tuesdays: Krampus Storms Through Los Angeles!"
By Tracy Vanity.  Interview with Krampus LA's Al Ridenour for Bizarro Central
By Whatsblem the Pro of Burners.me. An interview about Krampus and the upcoming 2013 Krampusfest events with Al Ridenour of Krampus LA.

"Krampus is Coming to Town! The Anti-Santa is Here! Krampus Ball, Krampus Run and Art Show"
By Lisa Derrick.  Q&A with Al Ridenour of Krampus LA.  Published by Carthwheel.