No Krampus Los Angeles event require you to wear a costume.
Elaborately costumed members of the LA Krampus Troupe will be showing up at Krampusfest events (and making some unlisted surprise attacks as well), but their suits and masks are the product of substantial investments of time and/or money — usually both. We're guessing, most enthusiastic attendees will be interested in a little Krampus flair, but aren't prepared to squander weeks of work or hundreds of dollars, so we're putting up a few posts about easier approaches to a Krampus(y) look.
Even in Europe, Krampus costumes are not really mass-produced, though most Europeans do buy (rather than make) their suits and masks. Those suits are not cheap, but are purchased from specialized outfitters with repeated yearly use in mind, and are often handed down within a family or group of friends.
Most masks are produced by pro-hobbyists, semi-professional, or professional artisans who may do other sculptural, artistic or ornamental work during the off-season.  Wooden masks are still common, particularly in more traditional Alpine regions, but resin or latex is also used.  Suits also are often a seasonal sideline of furriers, leatherworkers, or tanners, and are usually made from genuine animal products rather than faux fur.
While most of this work is done on a custom-order basis, in a handful of towns one finds retailers offering Krampus supplies year-round and under one roof.  While brick-and-mortar stores like this remain rare, online retailers have begun to conglomerate the output of various artisans as well as serve as exchange sites for used materials.  (You can also search the German or Austrian versions of eBay ("krampus, masks" on Germay eBay, or on Austrian eBay), though many sellers will not  accept overseas orders, and of course you either need to know some German or be tireless with Google Translate.
Despite the traditional inclination to work with local artisans, the growing popularity of Krampus, has given birth to bigger superstores like Krampus Imperium, which not only ships overseas, but has translated their site into English.  While this may seem  the perfect answer at first, be advised that occasional sale masks for about $130 and nicer ones moving into the $500 range and beyond. Mask blanks for about $80.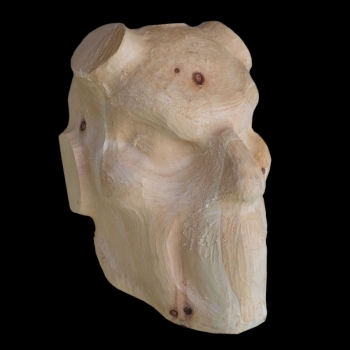 In the US and our friends involved with the Philadelphia Krampuslauf have encouraged a mask-maker in their area to produce a new line of Krampus masks for $85 plus shipping.   If your are ambitious and want to create your own mask, but just need a little help with details, glass eyes, teeth, gums, and horns can be purchased on the site also.
Readymade fur suits are not available on Krampus Imperium  and are virtually impossible to find on any other multilingual (English-language) site.   Used suits sometimes show up on European eBay pages or other online "flea markets," but are still in the $300-600(+) range.  And you might think twice about donning a suit that's marinated in the sweat generated by a Krampus run.
In a future post, we will offer some cheap options for various Krampus or Krampus-like body coverings as well as other options for easily adaptable off-the-shelf masks.