Facebook page: Krampus at Copro Gallery (12/14)
12/14: KRAMPUS AT COPRO GALLERY

"NAUGHTY OR NICE" GROUP EXHIBITION
KRAMPUS L.A. OUTDOOR "KRAMPUS HABITAT" PERFORMANCE BETWEEN 9:30 AND 10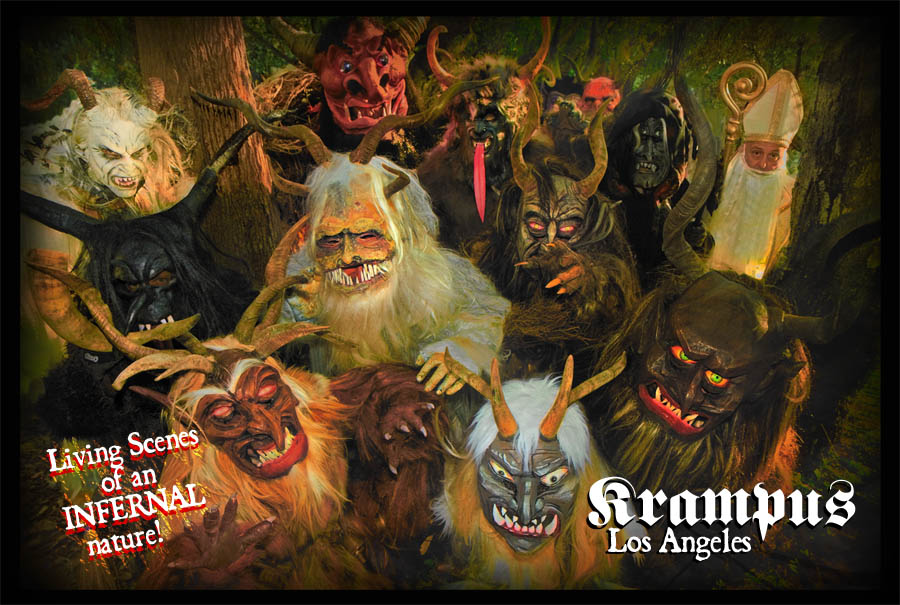 COPRO GALLERY – Bergamot Station Arts Complex
Saturday December 14, 2013
Opening reception: 8:00 – 11:30 p.m
Krampus LA Performance 9:30-10:00 p.m. (time approximate)
Exhibit runs through January 4, 2014
2525 Michigan Ave , Unit T5, Santa Monica , CA 90404
Gallery phone: 310-829-2156
Krampus LA contact email.  Copro Gallery email.
FREE!
RSVP on Facebook and see which of your friends may be going.
Copro Gallery celebrates the holidays with with "Naughty Or Nice," a group exhibition exploring the darker meanings of St Nick's nocturnal spying, his secret list, and its voyeuristic delight in hidden pleasures, pains, and — the punishments they bring. Saint Nick's darker, punitive side,  the KRAMPUS, will not only grace gallery walls, but manifest in hot-blooded, bestial form, brandishing switches and and herding gallery patrons outdoors into his infernal habitat. There, amid a smoldering jumble of cages, bones, and screaming children, the Krampus shambles through the inscrutable tasks of eternal perdition, rattling chains, snarling, and otherwise presenting himself  at his most hellishly photogenic.
Indoors the perils and delights of the season will be represented in a stellar exhibition of artwork curated by Albert Cuellar and Copro Gallery.
Exhibiting artists include:
Anthony Ausgang
Al Guerrero
Al Ridenour
Big Toe
Bill Rude
Bob Dob
Bob Lizarraga
Brian Smith
Casey Weldon
Chantal Menard
Chet Zar
Christy Kane
Church of Type
Ckirk
CONE
Gris Grimly
Erik Alos
Eric Richardson
James Naccarato
James P. Scott
Jason Hadley
Jason Snyder
Jeff McMillan
Jennifer Korsen
Jim Balsam
Karen Hsiao
Lorena California
Louie Metz
Luke Cheuh
Mackie Osborne
Marcel Dejure
Marcus Schaeffer
Matt Gordon
Misery
Miso
Nathan Spoor
Nora Keyes
Redd Walitzki
Rich Polysorbate
Rick Zar
Robin Red
Rudy Fig
Ryan Heshka
Sarabeth Schedeen
Spy Emerson
Tim Burton
Travis Louie
Xiau Fong Wee
AND MORE…!
Staging the outdoor Krampus tableau in elaborate hand-crafted suits and masks are members of  KRAMPUS L.A., the first and only Krampus troupe in the Western United States.
Many of the troupe's members were involved in the costumed buffoonery and public spectacles perpetrated  by the CACOPHONY SOCIETY.
Among the Society's more transgressive and theatrical productions were the scenes of horror depicted in their occasional Halloween house of horrors, "The Museum of Mental Decay.
Photos and artifacts from the "Museum" are featured below:
Museum of Mental Decay (Museum display)
Photo: Jon Alloway