12/12: KRAMPUS AT DOWNTOWN ART WALK
Date: Thursday, December 12, 2013
Artwalk 7-10pm
Krampus appearance 8pm-9pm (approximately)
Location: Krampus departs Art Walk Lounge (634 S. Spring) at approximately 8pm, heads to The Hive Gallery (729 S Spring St)  and back.
Krampus info:  Email
On Thursday, December 12, LA's monthly Downtown Art Walk will be overrun by a  pack of homegrown Krampuses, the horned and furry yuletide devil who accompanies St. Nicholas on his rounds in alpine countries.
This European-style Krampus walk will be the first of its  kind in the Western US and feature original suits created over the previous year by the Krampus Los Angeles Troupe.  The public Krampus run or walk — Krampuslauf — is part of a centuries-old tradition, and Krampus LA organizers respect and adhere to that working model. At  these events, Krampuses take to the streets or other public areas waving switches, rattling chains and bells  and otherwise  playfully menacing onlookers with the threat of "punishment" for the "sins" of the previous year.  (NOTE: Krampus focuses his attention almost exclusively on thrill-seeking adults rather than children. Children presented by their parents may be greeted, but never frightened.)
This year's beastly  galumphing will be accompanied by a small marching musical ensemble — Free Range Orkestar substituting authentic Austrian folk music for their usual Balkan repertoire.
St. Nicholas will also be along to bestow some friendly blessings and goodies.
COMING IN COSTUME? PLEASE NOTE:
All costumed participants joining us for the first time, must be at  (The Art Walk Lounge) 634 S. Spring before 8pm.  There, they will check in with a volunteer, providing guidelines for successful participation

DO's
OBEY ALL TRAFFIC LAWS
REMAIN IN CHARACTER
BE PLAYFULLY FRIGHTENING
USE SWITCHES WITH LIGHT TOUCH
USE SWITCHES ONLY ON BACK AND REAR OF LEGS
HYDRATE & VENTILATE
STAY WITH THE GROUP AND MAINTAIN VISUAL CONTACT
ASK FOR HELP WHEN NECESSARY
KEEP VALUABLES AND PERSONAL ITEMS SECURE
POSE FOR PICS
WEAR SENSIBLE FOOTWEAR WHEN POSSIBLE
BE RESPECTFUL OF PEOPLE & PROPERTY
USE THE HELP OF WRANGLERS WHEN POSSIBLE

DONT's

TALK (KRAMPUS ONLY GROWLS)
USE SWITCHES ON THE UPPER BODY
ENGAGE WITH CHILDREN WITHOUT PARENTAL ENCOURAGEMENT
ENGAGE WITH LESS-THAN ENTHUSIASTIC SPECTATORS
BE OVERLY AGGRESSIVE WITH WOMEN
TAUNT OR BE CONFRONTATIONAL WITH PEOPLE, PETS, DRIVERS
VEER OFF FROM THE GROUP
LEAVE TRASH OR DEBRIS ON THE STREETS
IF SOMEONE IS VERY FEARFUL OF YOU, DON'T MAKE IT WORSE! GIVE THEM SPACE

12/14: KRAMPUS AT COPRO GALLERY

"NAUGHTY OR NICE" GROUP EXHIBITION WITH KRAMPUS L.A.
Art Opening with Performance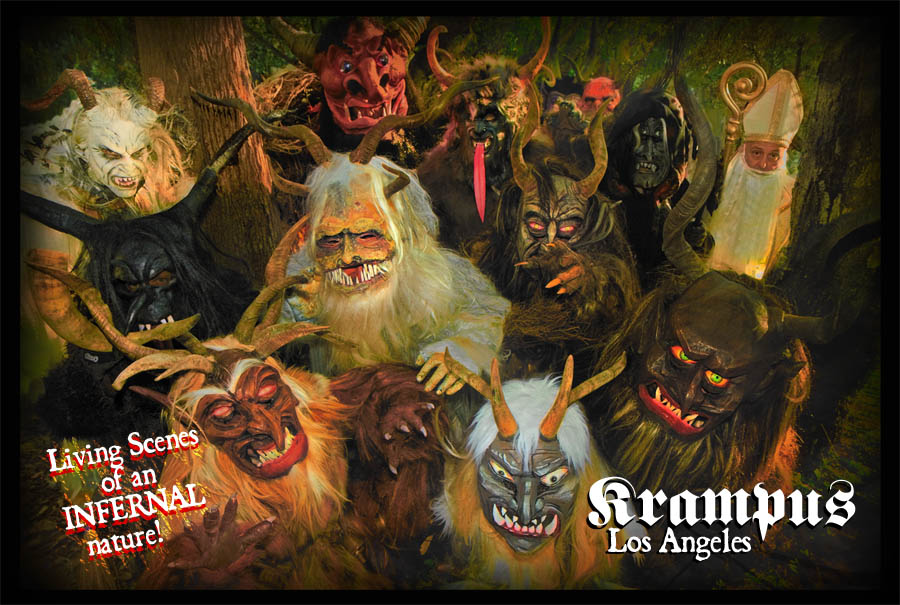 COPRO GALLERY – Bergamot Station Arts Complex
Saturday December 14, 2013
Opening reception: 8:00 – 11:30 p.m
Krampus LA Performance 9:30-10:00 p.m. (time approximate)
Exhibit runs through January 4, 2014
2525 Michigan Ave , Unit T5, Santa Monica , CA 90404
Gallery phone: 310-829-2156
Krampus LA contact email.  Copro Gallery email.
FREE!
RSVP on Facebook and see which of your friends may be going.
Copro Gallery celebrates the holidays with with "Naughty Or Nice," a group exhibition exploring the darker meanings of St Nick's nocturnal spying, his secret list, and its voyeuristic delight in hidden pleasures, pains, and — the punishments they bring. Saint Nick's darker, punitive side,  the KRAMPUS, will not only grace gallery walls, but manifest in hot-blooded, bestial form, brandishing switches and and herding gallery patrons outdoors into his infernal habitat. There, amid a smoldering jumble of cages, bones, and screaming children, the Krampus shambles through the inscrutable tasks of eternal perdition, rattling chains, snarling, and otherwise presenting himself  at his most hellishly photogenic.
Indoors the perils and delights of the season will be represented in a stellar exhibition of artwork curated by Albert Cuellar and Copro Gallery.
Exhibiting artists include:
Anthony Ausgang
Al Guerrero
Al Ridenour
Big Toe
Bill Rude
Bob Dob
Bob Lizarraga
Brian Smith
Casey Weldon
Chantal Menard
Chet Zar
Christy Kane
Church of Type
Ckirk
CONE
Gris Grimly
Erik Alos
Eric Richardson
James Naccarato
James P. Scott
Jason Hadley
Jason Snyder
Jeff McMillan
Jennifer Korsen
Jim Balsam
Karen Hsiao
Lorena California
Louie Metz
Luke Cheuh
Mackie Osborne
Marcel Dejure
Marcus Schaeffer
Matt Gordon
Misery
Miso
Nathan Spoor
Nora Keyes
Redd Walitzki
Rich Polysorbate
Rick Zar
Robin Red
Rudy Fig
Ryan Heshka
Sarabeth Schedeen
Spy Emerson
Tim Burton
Travis Louie
Xiau Fong Wee
AND MORE…!
Staging the outdoor Krampus tableau in elaborate hand-crafted suits and masks are members of  KRAMPUS L.A., the first and only Krampus troupe in the Western United States.
Many of the troupe's members were involved in the costumed buffoonery and public spectacles perpetrated  by the CACOPHONY SOCIETY.
Among the Society's more transgressive and theatrical productions were the scenes of horror depicted in their occasional Halloween house of horrors, "The Museum of Mental Decay.
Photos and artifacts from the "Museum" are featured below:
Museum of Mental Decay (Museum display)
Photo: Jon Alloway